Spain My Love, España de mis amores
Sunday, Mar 18, 2018 from 3:00 PM to 4:30 PM - Spanish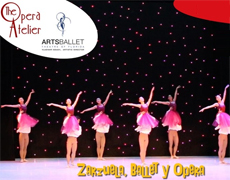 Enjoy Spain my Love, a show with great moments of zarzuela, ballet and opera!
For generations, the allure of Spain has ignited the imagination of writers, librettists and composers from different countries. The repertory for Spain, my Love includes anthological selections from beloved operas such as Don Giovanni, Don Carlo and Carmen in the voices of Nathalie Avila, Greisel Dominguez, Kiley Hernández, Silvia Ludueña, Darlen Maceo, Rafaela Ochoa, Valentina Ortiz, Katiuska Rodríguez, Eduardo Calcaño, and Herman Díaz. Accompanied by the pianist Ileana Cortizo Boza.
Show more >>
The art of the ballet will be represented by two ballets: "Tarde en la Siesta" with music by Lecuona and choreography by Alberto Mendez, as well as the exciting work "Viva España", with music by Massenet and choreography by Arts Ballet of Florida Artistic Director Vladimir Issaev.
Brilliant zarzuela selections -the Spanish equivalent of operetta- will round out the program. Experience the excitement and allure of Spain through opera, ballet and zarzuela. Sunday March 18 at 3 pm at the Manuel Artime Theater.
The Opera Atelier: Imaginative, bold, refreshing!
Arts Ballet Theatre of Florida: Breathtaking!
Location
Manuel Artime Theater 900 Southwest 1st Street, Miami, FL 33130 (Map)