Jack and the Beanstalk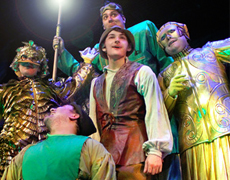 Book & Lyrics by Jim Eiler.
Music by Jim Eiler & Jeanne Bargy.
Based on the fairy tale by Joseph Jacobs, this wacky adventure takes the climb with Jack as he goes up the magical beanstalk into the world of a Giant Inventor, a tap dancing Golden Goose, and a Golden Harp that can really "get down"! This fanciful musical is full of surprises that are sure to entertain. Go along with Jack on his magical journey as he attempts to avoid temptation, escape the giant, and learns some important life lessons along the way.
Location
Actors' Playhouse at the Miracle Theatre 280 Miracle Mile, Coral Gables, FL 33134 (Map)
Contact Information
305-444-9293
305-444-4181