Eight Hours Donít Make A Day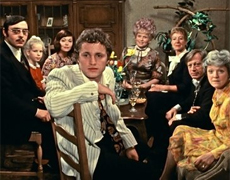 Eight Hours Don't Make a Day series pass is now on sale for $25. This pass grants (1) one admission to all episodes in the series.
A social and political history of West Germany is portrayed through the struggles of three generations of toolmakers in this epic, five-part miniseries by wunderkind Rainer Werner Fassbinder, who amassed an impressive filmography of 40+ titles over the course of 15 years before burning himself out at age 37. Filled with the shining lights of his repertory company and featuring a veritable jukebox of hits from the era, the series functions as both trenchant social critique and populist entertainment. Released in the U.S. for the first time, the emergence of Eight Hours Don't Make A Day represents the discovery of a vital missing link in the director's canon, one that may represent Fassbinder's clearest vision of an achievably, incrementally better world.
Location
Coral Gables Art Cinema 260 Aragon Avenue, Coral Gables, FL 33134 (Map)