Subtropics XXIV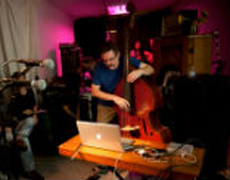 Presented by SFCA [iSAW+SUBTROPICS] in collaboration with ArtCenter/South Florida.
Kick-off: July 5, 2017 | 7 – 10 pm
Sound art installations: July 5 - September 3, 2017
Performances, Workshops, Films: July 6 – 22, 2017
The 24th edition of Subtropics, Miami's experimental biennial of music and sound art, aims to nurture the act of attentive listening with a summer festival featuring live concerts, sound art installations, workshops and films as well as the classic Subtropics Marathon concert.
Show more >>
Subtropics XXIV kicks off on July 5th during ArtCenter's Resident Night with a preview of two sound art installations: LISTEN featuring a series of adapted works by the festival's Director, Gustavo Matamoros in a space designed by Freddy Jouwayed and Microcosmos by Alba Triana. This year's festival will also feature live performances by Olivia Block, John Driscoll, Richard Garet, Barbara Held, Gustavo Matamoros, Abbey Rader and Jack Wright, plus Miguel Alvarez Fernandez and Victor Aguado Machuca from AMEE (the Association of Electroacoustic Music of Spain). In addition, a series of workshops and seminars will explore and open up a discussion on experimental music, free musics and sound art led by authors Jennie Gottschalk, Jack Wright and Christoph Cox. One highlight of the festival will be a celebration of the life and work of filmmaker Charles Recher with a screening of his films on July 6th at the Miami Beach Cinematheque.
Location
ArtCenter South Florida 924 Lincoln Rd,Suite 205, miami Beach, AK 33139 (Map)
Contact Information
Anais Alvarez
305-674-8278
305-674-8772