August Wilson's How I Learned What I Learned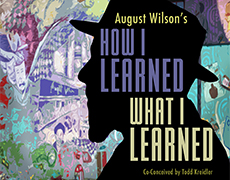 A Miami Premiere.
In this autobiographical tour de force, the late Pulitzer Prize-winner takes audiences on a life-changing voyage from being a young poet in Pittsburgh's Hill District to his encounters with racism, music, love and transformative friendships. August Wilson's How I Learned What I Learned charts one man's journey of self-discovery and what it means to be a black artist in America.
Starring Miami's own Robert Strain and directed by Carey Brianna Hart. Co-Conceived by Todd Kriedler.
Content warning: When telling his story, August Wilson doesn't shy away from adult language (including the n-word) and difficult subjects. He frankly and honestly discusses how racism, violence, sexual relationships, and drug use impacted his life.
"Complex and surprisingly funny... a crowd-pleasing 100 minutes in the company of a wonderful writer."– Pittsburgh Post-Gazett
For tickets, please visit website for more information or reach the box office directly at call.
Location
GableStage at the Biltmore 1200 Anastasia Avenue, Coral Gables, FL 33134 (Map)